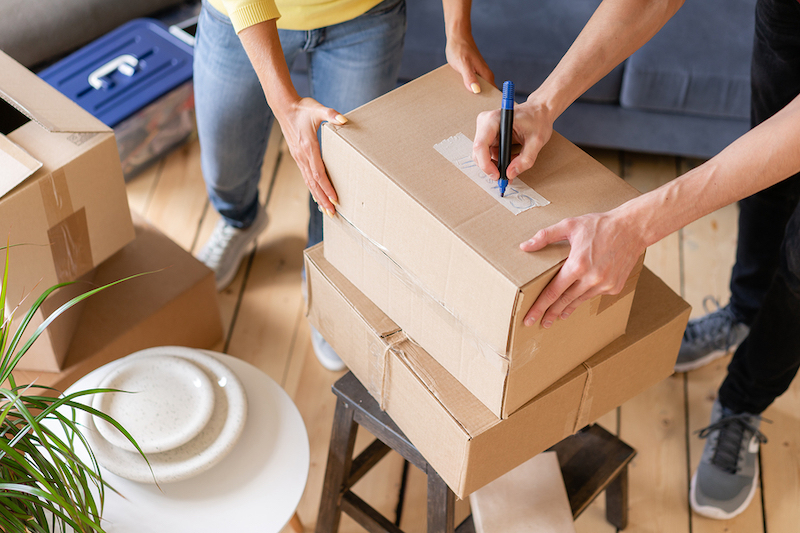 Just keep moving…
Original source: https://www.propertyreporter.co.uk/household/just-keep-moving.html
OK, so you've sold your house and found somewhere new to call home. Well done you. Now all you need to do is move in. Simple.
Buying and selling property ranks near the top of life's most stressful experiences, only narrowly beaten they say by divorce, bereavement and stepping on an upturned plug in the dark at 4 am.

A large part of this stress comes on moving day itself.

You've paid your deposit, swapped over all your utilities and started the long and frustrating process of contacting everyone you have ever met to update your address. Now you just have to squeeze all your worldly possessions into a few cardboard boxes before your mate arrives with a car he 'can probably get hold of'.

It doesn't have to be like this.

Let's bust a few myths:

1: It's cheaper to self-move

You can be forgiven for thinking this is true. Unfortunately, this probably is not the case once you factor everything in. Self-moves are almost always a false economy. If your mate eventually does turn up with an extra car, then that's the smaller items taken care of at best. Furniture will almost certainly need a van to transport it to your new home and van hire can be expensive even before any insurance is taken into consideration. You will also need to take time off work and depending on what you do, this could mean a loss of earnings. Managing to grab the odd cardboard box is one thing, but enough to transport an entire home's contents safely is another matter. Remember to add bubble wrap and strong packing tape to your shopping list.

Once everything is added up and all expenses and insurance are considered, a professional removal company may start to feel like the better option. Try to get at least three quotes to make sure you get a fair price.

2: You can save a few quid by waiting before you register for council tax

Everyone loves to save a few quid and I'm sure your mate with the car may have heard from some bloke down the pub that he got away with it once, maybe? But I can't stress this enough. You absolutely can't.

As lovely as this sounds, it's a myth, a fake, fugazi and quite literally a fraud.

If you wait to register, you will need to pay a lump sum to make up for all unmarked time and will need to provide proof of the date you moved in. Best to just take it on the chin and immediately register as settling into your new home is so much nicer without legal issues hanging over your head.

3: Fridays are the best days to move

No, they are not.*

So now we've cleared all that up and you know what not do, here are a few things that you should do:

1: Start as soon as you can

Lists will be your new best friends. Pack before you get an estimate from a removal company. This will give you a more accurate idea of how much stuff you actually have rather than phoning up and mumbling "Ten…. boxes?….no wait 20!…no….no wait….4? But quite big?"

Pack the least used rooms the first. Leave cupboard doors and drawers open leading up to moving day so you can see what you have done already. Disassemble furniture before moving day to save time. Take pictures of your electronics before you start pulling wires out.

2: Out with the old

Moving home is a perfect opportunity to take stock of your possessions, work out what you need and throw all that other crap away. Why fill up your nice new home with things you no longer need or want? Does that musical Westlife mug-tree spark joy? Doubtful. Bin it. In fact, throw those Marie Kondo DVDs out too. In for a penny, etc.

3: Label all boxes clearly

It's all well and good scrawling 'KITCHEN' on a few boxes, but kitchens can be quite big and there's a lot going on in them. Take time to list what is in the box and you'll save yourself a load of time at the other end.

4: Paperwork and documents

This should be a priority. Missing cups and cushions are irritating, but it's not the end of the world. Missing passports and house deeds are a nightmare and considerably harder to replace. Make sure you store all your important documents and papers in one secure box or file to ensure easy access. Then place it somewhere where safe. A good addition to this is to create electronic copies of important documents by scanning and saving them onto a USB, or in cloud storage (Dropbox, etc), so you can access them from anywhere.

5: Moving day survival kit

You don't have to go full Bear Grylls here. I'm not talking about tents and powder that turns urine into drinking water. Think more along the lines of everyday essentials that will help to get your family through the day and possibly the first night. This can be toiletries, phone chargers, bottles of water, snacks and provisions for hot drinks. You may also want to grab a couple of menus from local take-a-ways as cooking a family meal in amongst the chaos of a nearly unpacked house is less than ideal.

6: Clean up before you move in

Making good use of any 'overlap' time between getting the keys to your new home and moving in to give the place a clean is a great idea. Past you will thank future you for this. A thorough clean before all of your stuff arrives means there'll be less to do on the day and no grim surprises.

7: Make your bed ASAP and relax

Obviously, the very first thing to get set up will be the kettle. We're British. It's just what we do. But a brilliant second is your bed. Assembling and then making your bed after hours of lugging boxes about is a terrible way to end the day. You'll need to do it at some point anyway, so make this a top job. As long as you have your bed, the rest can wait until tomorrow.

*To be fair it used to be. The idea is that it flows nicely into the weekend and you get a couple of extra days. Problem is, everyone thinks this now so removal firms are in very high demand and will usually charge more. If you want to save money on a professional removal company, midweek is the way to go. You can usually book later too as more delivery slots will be available. Good luck!
For more information or to enquire about any of the properties that we have for Sales, Call Davian Hunte on 020 7328 4444